James Oxyer
One good habit to get into when looking for an unknown movie to watch is to always judge a book by its cover. If it's shot-on-video, never been released to DVD, and rated PG-13, then you'd probably be better off staying away from that movie. So whenever one stumbles across a horror-sci-fi movie from 1990 that they haven't heard about, it would probably be best to avoid it. Is this a keeper, or would you actually go to the dark side of the moon to avoid it?
THE DARK SIDE OF THE MOON (1990)
Review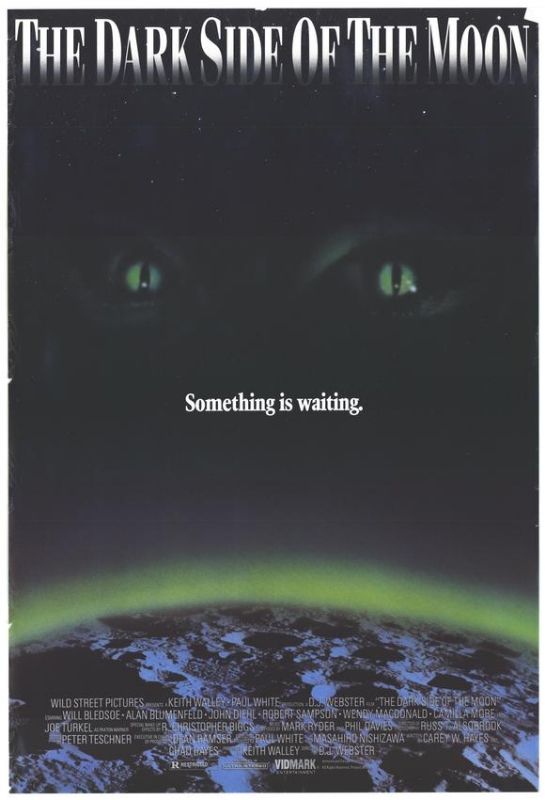 In the year 2022, the maintenance ship "Spacecore I" is sent to repair a satellite armed with nuclear weapons that is floating near the dark side of the moon. Once they arrive at their destination, they find another ship floating in space and decide to board. However, it turns out the entire ship is empty save for one dead body with a perfect triangle of skin cut out of his belly. A member of the crew does some investigating and finds that not only did the ship they find crash-land onto the Earth several years ago, but the dead body isn't exactly dead and begins spreading whatever he has around the ship. Is it the Devil possessing them, or is it all just some misunderstanding? And what is the connection between these events and the Bermuda Triangle?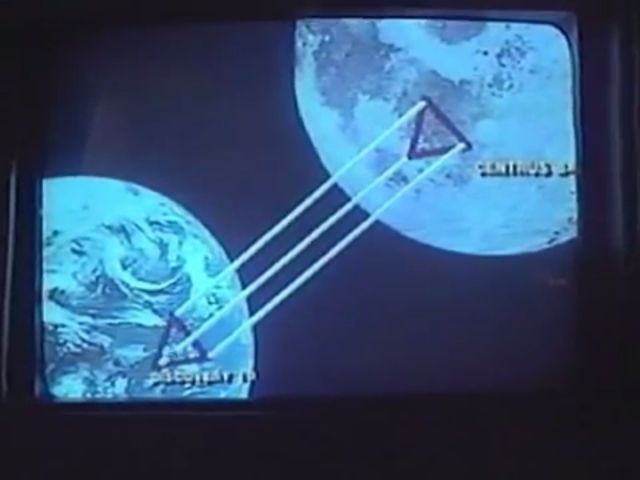 What a pleasant surprise. The Dark Side of the Moon turned out to be a well-made and enjoyable science fiction horror flick. In fact, I wouldn't be surprised if the filmmakers of Event Horizon saw this beforehand due to a large amount of similarities. However, whereas Event Horizon was big-budgeted and very flashy, this one has a miniscule budget and manages to be creepier than the former due to that. You'll be hard-pressed to find any recognizable names in the cast or crew listings, even though most of the actors have done bit parts in other films (Camilla More, who played Lesli here, was the girl who got thrown through the window by Jason in Friday the 13th: The Final Chapter). Unfortunately, director D.J. Webster hasn't done anything else, although writers Chad & Carey Hayes have both achieved success in the horror world with movies like House of Wax and the upcoming James Wan flick The Conjuring.

What I like about The Dark Side of the Moon is that it manages to take its time while rarely being boring and is successful at building atmosphere. The heavy isolated vibe plays off well with the supernatural plot elements and the low-key score gives it a major boost (the music was done by Phil Davies and Mark Ryder, who also did music for the underrated Society and the three Trancers films). I really don't want to go into too much detail with the specifics, seeing that a lot of my entertainment came from being pleasantly surprised as the film went along. The supernatural elements are presented well, even if they're occasionally heavy-handed. The method of possession is standard as well: vibrant yellow eyes and a deep, growling voice talking about Judgment Day and the like. However, despite being stereotypical, the filmmakers manage to show them off in a way that makes them eerie. There's very little gore too, but what we do get (mianly some intestines) isn't half bad.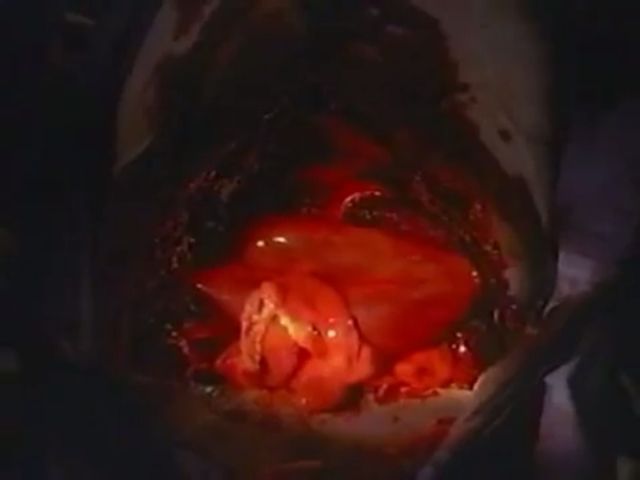 I suppose one complaint I may have with The Dark Side of the Moon is that it doesn't do anything spectacular, and it doesn't try to either. It's comfortable with its atmosphere-laced self, which gives the movie itself a comfortable vibe. But if it had gone for some more intense scenes, this might be even better known today. Some of the deliberate pacing leads to a few moments where I would have liked it to move a lot faster, and the low-budget leads to a few cringe-worthy explosion effects that lessen what could have been a totally badass finale. Those are really the worst parts about this movie. Some of the smaller stuff I enjoyed was how the opening credits are over intensely bright flames, and after they're over, we're plunged into the darkness of outer space which appropriately establishes the mood for the next 85-minutes or so. I found myself liking most of the characters we're meant to like and really hating the characters we're meant to hate, partially thanks to the performances by the small-but-talented cast. There are also some scenes where I would be lying if I said they didn't creep me out (the revelation of the mysterious ship is very creepy).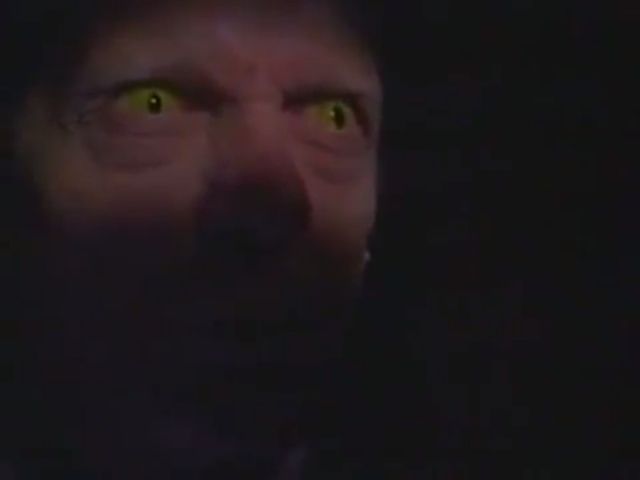 I just love that title. There's nothing terribly bombastic about it like (like Cannibal Women in the Avocado Jungle of Death or something of that ilk), but it manages to be decidedly sinister without even doing anything besides naming an exotic location. It's also a title that you can do anything with: aliens, a serial killer on a ship, killer robots…anything would fit, but I'm glad the makers of The Dark Side of the Moon went the supernatural route. It's not as enjoyable as Event Horizon, but it's definitely creepier. Everything that makes this effective is subtle, like the score, the pace, the scares, and even the appearance of the moon as just a dusty rock instead of a glowing orb of moonlight. It's well made having come from a first-time director, and the cast does nothing but enhance it. The deliberate pace and small-scale of everything doesn't seem like it'll bode well for revisiting, though. The only truly frustrating part is that it's not on DVD! It's understandable, seeing as few people have seen this, most likely because of when it was released. If this had been released in the wave of Alien's popularity, this might be a cult classic today. But instead, it got washed away in the torrent of DTV horror flicks of the early nineties. Oh well. It's not fantastic, but don't skip it either.
The Verdict: The Dark Side of the Moon is a rare movie from this time that really doesn't do anything wrong; but it doesn't do anything so right that I want to go out and recommend this to everyone and their dog. This is a more-than-serviceable and very eerie outer space horror romp from a time where original ideas and genuinely good movies were hard to come by. However, it's not one I'll be finding myself re-watching a lot, so I can't give it too much praise.
Score: 6/10