James Oxyer
As Franco February comes to a close, it's about time to examine the film that started it all. The movie that made Franco so popular in the sixties and seventies and helped kick start the spaghetti western craze. Most people are familiar with its name due to a recent (and awesome) "reboot" of sorts (really not that at all). How do you introduce a movie like this? Of course, I can only be talking about…
DJANGO (1966) Review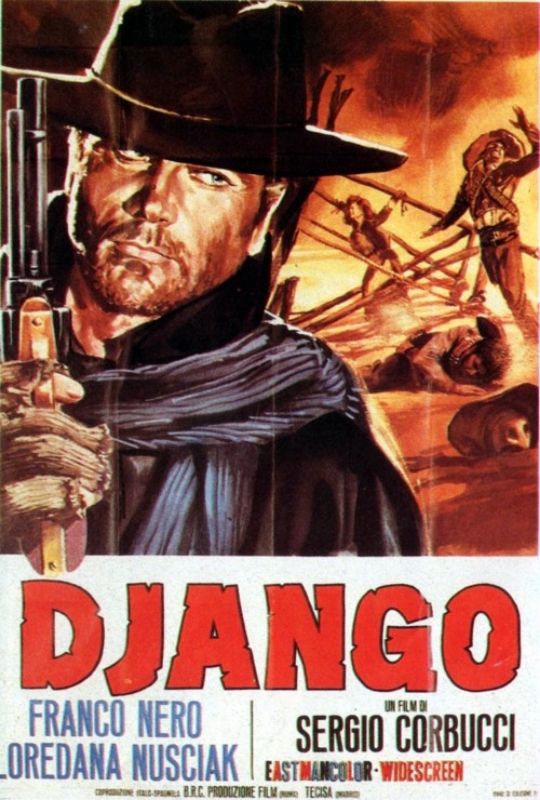 In the 1800's, a mysterious gunslinger only calling himself Django (Nero) walks into a desolate town pulling a coffin. He saves a young woman from being killed by a KKK-type band of outlaws led by the ruthless Major Jackson (Eduardo Fajardo) and discovers hatred between them and a gang of Mexican bandits. Django has a history with Jackson and is out to ruin him in every way he can, so he sides with the Mexicans and robs Jackson of a ton of gold. However, Django has an agenda of his own that may cost him his life…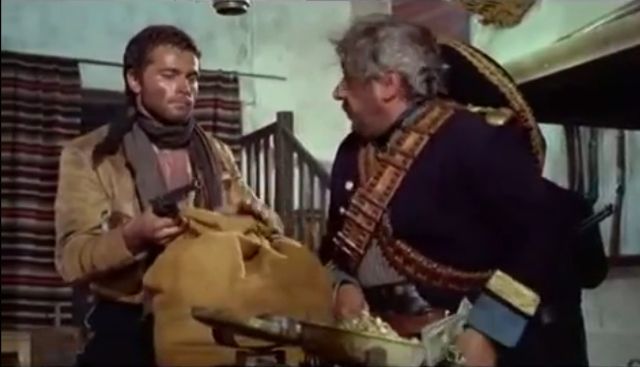 Okay, Django may not have sparked the spaghetti western craze (Leon's Dollars trilogy was probably responsible for that), but it did leave one hell of an impact. If you've heard of Django, you've no doubt heard of the huge amount of unrelated westerns taking the name while not really being sequels (ironically, the one "real" sequel from 1987 is more mediocre than most of the unofficial ones I've seen). In my personal opinion, the one true sequel is Django, Prepare A Coffin, but that's another story for another time. We're here to talk about the original. Nero is the one familiar face in the cast, and boy does he look young. Maybe it's the lack of any serious facial hair. And even though nobody else really achieved fame, everyone did respectable jobs, which is hard to see past the awful dubbing. That's really the movie's weakness; choosing the wrong voice for each character. Worst of all is Django himself; Nero is a gruff-looking guy, and this voice seems more akin to a tour guide at a museum.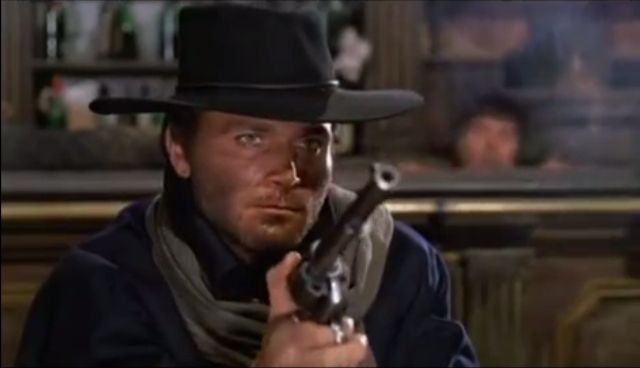 In my mind there are two kinds of Italian directors: the visionary ones and the ones interested in making a corny B-movie to get a paycheck. Sergio Corbucci is clearly the former. Right off the bat, Django holds your attention with one of the best title songs you'll ever hear and the striking image of a figure trudging through a muddy wasteland dragging a coffin behind him. In most westerns, all of the action takes place in a sandy landscape, but not in Django. Everything in the beginning looks filthy, from Django's ragged outfit to the people themselves. The mystery of what's in the coffin holds your attention during the kind of slow beginning, and I'm not going to spoil what's in it. It's revealed like twenty minutes in, but the reveal itself is so awesomely done I'll save that for your own viewing pleasure.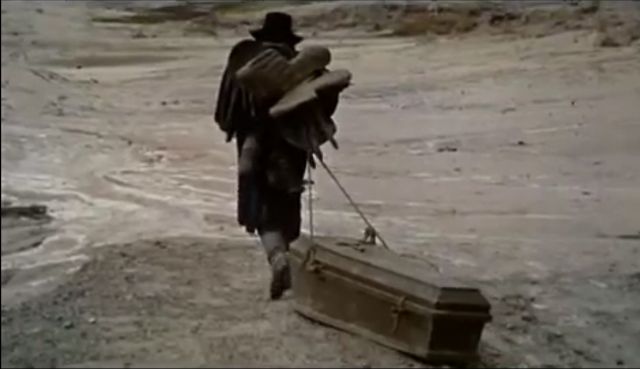 The plot is simplicity itself, so Django really relies on its stylistic elements to make it as great as it is. It's Italian, so the camerawork is naturally really good, and the score is out of this world. Luis Bacalov, who's probably best known for collaborating with Quentin Tarantino some, composed it and it's perfection. Every piece of it fits each scene exceptionally well, especially the main theme. Another aspect that makes this movie stand out from others of its kind is the depth the main character has. Django isn't the do-good cowboy of the '30s; he's an antihero more than anything. He's just a good guy who's gotten screwed over by life so bad he attempts to only care for himself when there's really much more to him. The fight scenes are choreographed very nicely, and this is one of the rare westerns where the fighting actually feels real (exaggerated sound effects intact, though). The climax is strong, but what I've found is the case with a lot of spaghetti westerns, the main villain(s) is vanquished too fast and too easily, but the final shot is a memorable one.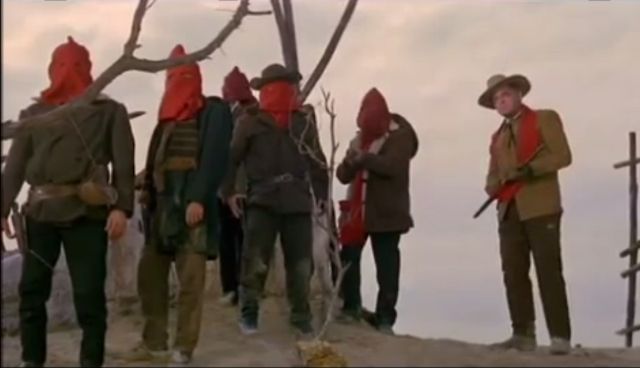 I really hate reviewing this movie. Don't get me wrong; I love Django and I love talking about it, but the problem is I'm writing it for a website called Obscure Cinema 101. This movie really shouldn't be obscure at all. This is one of the best westerns out there, and it's one I would rank right up with Leon's classics. Even with Tarantino's Django Unchained gaining a lot of popularity, I still don't think the original gets the attention it deserves. Aside from some questionable dubbing and a climax that should have been a little more, well, climactic. The characters, the action, the twists, the sets, the music, the cinematography are all present and are some of the best around. Blue Underground is on the ball yet again with both a DVD and a Blu-Ray of Django, and both look great. This is one you should really buy on Blu-Ray just for all the great aesthetics of it. The extras are great too, with interviews with Nero and assistant director Ruggero Deodato, a short film with Nero, a documentary on spaghetti westerns, and trailers. This comes as highly recommended from me. I'm giving it a 9/10 for its small problems, but every time I watch it, I feel inclined to boost it up to a 10, so take that for what you will.
The Verdict: Django is by far Franco Nero's best film and one he hasn't been able to top yet, despite his impressive catalogue. Even if you're not a fan of westerns, check this one out, and you may find yourself watching more like it within a week.
Score: 9/10
Post a Comment →
tagged
1966,
Franco February,
Franco Nero,
Sergio Corbucci
|
in
Django,
Western