James Oxyer
Continuing with Franco February, I decided it was time to head to America. Naturally, most of Nero's movies are Italian, so it was kind of rare to see him appearing in anything that wasn't from Italy. But nevertheless, here he is, and he's not alone. He's costarring with ninja movie veteran Sho Kosugi! In a ninja movie! Along with Christopher George as the villain! Directed by Mennahem Golan! And two other actors who were in eighties slashers! Then again, the last time something was this perfect we got The Tomb. Or Young Warriors.
ENTER THE NINJA (1985) Review
Cole (Nero) has just finished with his training in the art of "ninjitsu" in Japan and has been deemed an official ninja, much to the dismay of rival ninja Hasegawa (Kosugi). Cole heads to the Phillipines to visit his war buddy Frank (Alex Courtney) and his wife Mary Ann (Susan George), who own a considerable chunk of land. Unbeknownst to them, that land has great oil potential, so evil businessman Mr. Venarius (Christopher George) wants to drive them off to get his hands on it. Luckily, Cole is there to thwart all his plans, but Venarius has something else up his sleeve: he's ordered a ninja from Japan to drive them off (guess who it is). Cole must then battle the ninja and Venarius's entire corporation in an attempt to save his friend and eliminate Venarius!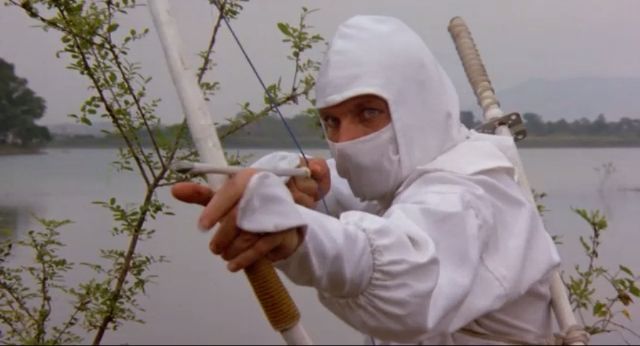 Enter the Ninja is the first in a trilogy of ninja movies (the latter being Revenge of the Ninja and the supernatural Ninja III: The Domination, none of which have anything to do with each other), all starring Sho Kosugi. I had watched all of them in reverse order before and wasn't terribly impressed. Then comes Enter the Ninja, which is just a beautiful melting pot of inane greatness that most ninja movies lack. The whole thing has this mentality where it doesn't give a crap about things like "logic" and just has fun with it. It knows no one will ever take a ninja movie seriously (if you are, you're doing something wrong), so all of the corny little pieces do nothing but add to the fun. A great cast helps it as well, with Nero, Kosugi (who starred in my favorite ninja flick,Pray for Death), Christopher George (Pieces, Graduation Day, and many others), Susan George (Straw Dogs), Alex Courtney (Fatal Pulse) and Will Hare as Dollars, who's probably best known for playing the scary grandpa in Silent Night, Deadly Night.
Given that this is from the director of The Delta Force, you know there's going to be very little downtime and zero boredom. When there isn't some great kung-fu fight going on, we get to enjoy some corny dialogue and over-the-top performances (mostly by Christopher George). As an Italian in the middle of an American production, Nero doesn't feel very out of place and his cool demeanor gives the movie extra cool balances and acts as a nice balance to some of the vicious overacting on display by other actors. None of the actors are very "good," but their own brand of thespianism makes the movie even more fun. Some of the dialogue is amusing too; after all, who doesn't enjoy hearing Christopher George yell, "I want my black ninja and I want him now!"like an upset toddler?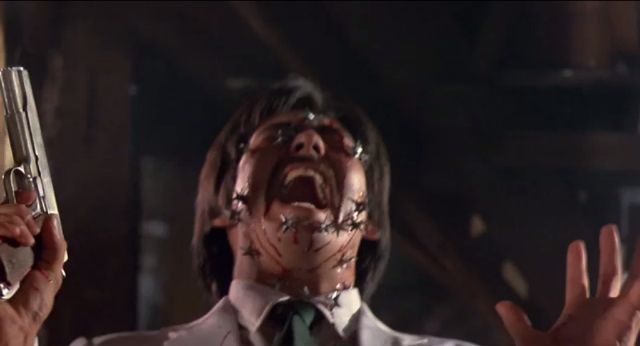 The movie is like a mix between a ninja movie, a martial arts movie, and even a "man pushed too far" movie at the end when Nero begins laying waste to all of Venarius's men, leading up to an epic showdown between himself and Hasegawa in a cockfight ring. In fact, all the fight scenes in Enter the Ninja are top-notch. And when there isn't any fighting going on, there's some sort of ninja awesomeness going on, from shurikens to blinding powder, and even some spiked balls! There's a fair amount of bloodshed to go along with it, too. Amidst the (literally) cartoonish sound effects and the preposterous opening scene, the most awesomely stupid part is a certain death scene that's become infamous on YouTube, due to the acting involved. It would be a spoiler to say whose death it is, you can probably guess because it's so obvious (trust me, there are no twists in this movie).
Enter the Ninja is one of my favorite Franco Nero movies, as it combines the absurd awesomeness of a Cannon Group film with the rough awesomeness of Franco Nero. Add in a boatload of ninjas (including Sho Kosugi!), Christopher George going nuts, the creepy grandpa from Silent Night, Deadly Night, brisk pacing, and an intense score (by the guy who did the music for New Year's Evil), and you've got the second best ninja movie out there. A DVD was released a year ago under the "MGM Limited Edition Collection" line of DVD-R's, and most likely without special features. Even without that, the picture looks good and it's still Enter the Ninja, but it deserves way better. "I want my Enter the Ninja Blu-Ray and I want it now!"
The Verdict: Enter the Ninja skims the surface of perfection, and although it doesn't quite make it, it's still a wickedly good ninja-filled time. And at the end, Franco Nero winks at the camera! When does the goodness end?
Score: 9/10
Post a Comment →
tagged
Franco February,
Ninja
|
in
Ninja