James Oxyer
One of the greatest movies I have ever seen is Rock 'n' Roll High School from 1979. Anyone who has seen that movie knows why, and anyone who hasn't…well, why not??? Anyway, I was delighted to find out that the director of that movie, Allan Arkush, also directed a similarly-themed movie in 1983. And…wait, what's that? It's rated R? Stars Malcolm McDowell? Features several live musical numbers? Well, what the heck are we waiting for? Let's check this sucker out!
Get Crazy (1983) Review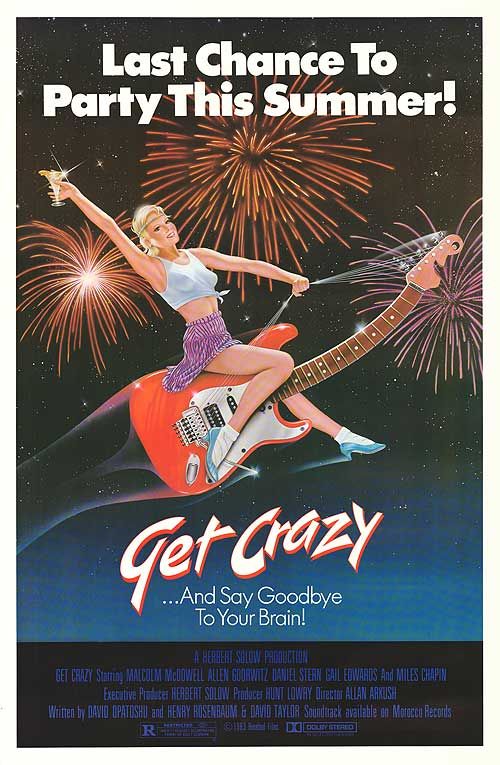 Max Wolfe (Allen Garfield) is the owner of the Saturn Theater, and has been for a long time. On New Year's Eve, Max plans to throw a HUGE party, yet his plans are slightly dampened when he finds himself on his death bed, much to the delight of Colin Beverly (Ed Begley, Jr.) and his nephew Sammy (Miles Chapin), who want the Saturn torn down and turned into a large office building. However, Max decides that the show must go on and puts Neil (Daniel Stern) and his newfound love interest Willy (Gail Edwards) in charge. The show does go on as planned, but little do they know that Colin has planted a bomb set to go off at the stroke of midnight! Can the two lovebirds stop Colin's evil plans? Will Max survive? Will British punk rocker Reggie Wanker (Malcolm McDowell) get the emotion back into his music? And most importantly, will the show go on as planned?
First of all, just admire that poster. In my mind, that is the perfect poster. It tells the audience exactly what they're in for, and also provides some great artwork! That tagline is the most apt tagline I've seen in a while: "Get Crazy…and say goodbye to your brain!" I love this movie. If I had to describe it, I would say that it's Rock 'n' Roll High School, only everything's just a little bit more excessive. Bigger budget, bigger actors, and everything's just a little bit crazier. It's obviously directed at an older audience (what with the multitude of boobs and profanity), but it's also directed at an audience that's just as immature.
Even though I don't prefer it to RNRHS, I do find Get Crazy to be the funnier of the two. Yes, it does employ the kind of so-stupid-it's-funny brand of comedy adapted in Rock 'n' Roll High School, but I still found it funny. Highlights (for me, at least) include the giant joint walking around, McDowell's talking penis (you read that right), the men's bathroom, Lou Reed as a struggling and legendary musician who comes out of retirement to play for Max, the great opening where Max (clad in spacesuit attire) rides towards a huge, glowing "83" on a mini rocket, the funeral of a blues musician and every mourner is blind, and more! Of course, as with most comedies, a lot of the jokes do fall flat, but there's enough funny bits to classify this as a successful comedy.
Another way to describe this movie is, "If New Year's Evil had just focused on the party." We get a lot of great, live musical numbers from all kinds of musicians. We get parodies of punk, blues, new wave, and just good ol' rock and roll. I would say that McDowell did the whole "Tom Cruise in Rock of Ages" thing before that musical even hit the stage! McDowell sings, dances, and just puts on a great show, and really stole the movie for me. My favorite number out of all of them, in my opinion, is "Take It No More," sung by an all-girl rock band, and it's just fantastic, filled with all the synthesizer, energized vocals, and sax solos you could ever want!
The rest of the cast is fantastic as well. I already touched on McDowell as Reggie Wanker, so what about everyone else? Well, Daniel Stern (most famous for playing Marv in Home Alone, but I loved him in C.H.U.D.) is great as always, Allen Garfield is great as Max, even if he doesn't get a huge amount of screen time. I LOVED Ed Begley Jr. as the villain (wearing a silver jumpsuit, no less), and Miles Cahpin was hilarious as the sleaze ball Sammy. Arkush regulars Mary Woronov and the late-and-oh-so-great Paul Bartel make appearances as well, and when I looked on IMDb, apparently the great Dick Miller is in it as the usher, and I completely missed him! Then again, I wouldn't mind re-watching this…
Get Crazy ranks up there with Rock 'n' Roll High School and Animal House as far as movies that make you want to party go. I loved it. It's another one of those movies that could have only happened in the '80s, and I love every minute of its retro charms. It's got great musical numbers, great performances (McDowell's deserves some place in history), great humor, and almost everything else you can imagine. However, the absolute worst thing about Get Crazy is how it STILL is not on DVD! What's up with that? This is a fantastic slice of '80s golden cinema that I would rank alongside Fast Times at Ridgemont High and even Risky Business! It's just fun, fun, fun!
The Verdict: Get Crazy lives up to its title and poster art like you wouldn't believe, with tons of retro goodies for the goodhearted eighties fanatics of the world. In other words, it's essential.
Score: 9/10
After Note: I apologize for the poor quality of the images, as I had to capture them from YouTube, seeing as I don't have this on DVD and the full movie is on YouTube. Say...the full movie's on YouTube? Well, what are you waiting for? GET CRAZY!!!!