James Oxyer
Well, winter is finally upon us, and you know what that means: chestnuts roasting on an open fire, the lighting of the Christmas tree, caroling, and most important of all, horror movies! Winter is a criminally underused setting for horror movies, and when done right, can have very effective results. The blinding whiteness of the snow can create a very isolated atmosphere, and can also lead to some great imagery with the whole red-blood-on-white-snow gag. Unfortunately, there are few horror movies that make good use of the possibilities present with setting a scare flick in the winter. But the question present is, can an obscurity like Iced do right where several other have failed?
ICED (1988) Review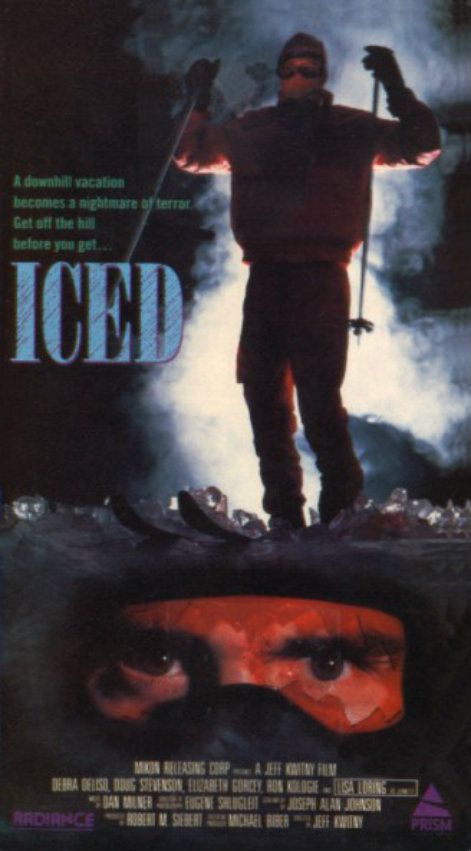 Jeff and Cory have a problem: they're both in love with Trina. So when they and some friends are at a ski lodge on vacation, the two decide to settle it by having a ski race. Cory wins, and winds up with Trina. Filled with jealousy and alcohol, Jeff hits the slopes again late that night, falls off a cliff, and dies. Four years later, all the friends there that night are invited up to an isolated ski chalet in the mountains. They get there and engage in activities like skiing, boozing, and snorting coke. However, someone wearing Jeff's old ski suit begins to pick them off one by one in various ski-related ways. Is it Jeff, back from the dead, or is it someone else?
I've seen some slasher movies take some heat from critics, but man does Iced get a beating from reviews! Not like those reviews don't have any basis (more on that later), but it seems like anyone who's anyone hates this movie! And because of that, I, of course, liked it. This is definitely not a good movie at all, and it does have some major flaws, but overall, it's a delightful slice of cheese kept frozen. For such an obscurity, Iced does have some familiar faces in the cast. There's Debra DeLiso (Slumber Party Massacre), Lisa Loring (Wednesday Addams from the original Addams Family), Elizabeth Gorcey (Footloose), and Joseph Alan Johnson (Slumber Party Massacre, Berserker, who also wrote the movie). Director Jeff Kwitny also directed the hilarious killer locomotive movie from 1989 Amok Train, so major props for that.
Despite there being a fifty-minute time in between kills where nothing happens, there are some fun things packed in. There's an ample amount of nudity (most of which is, oddly enough, provided by Loring), and when paired with the cheap film quality, Iced can sometimes feel like a bottom-of-the-barrel porno. However, the majority of this dead air is filled with antics that wouldn't be out of place in a soap opera. The guys and gals reminisce about the past and whine about how their lives turned out, and the sheer corniness of it all is very entertaining. There are also the atrociously good fashions (mullets everywhere! A Rockadiles shirt!), bizarre dream sequences, and almost complete lack of skiing. But while this is all well and good, this best parts of Iced are the beginning 10-15 minutes and the final half-hour where the slasher goods really kick in full force. The beginning features an incredible ski race with the most knuckle-biting synthesizer music you'll ever hear. The final half-hour moves at a fast pace, features some great snow-themed deaths, and actually has some really good music!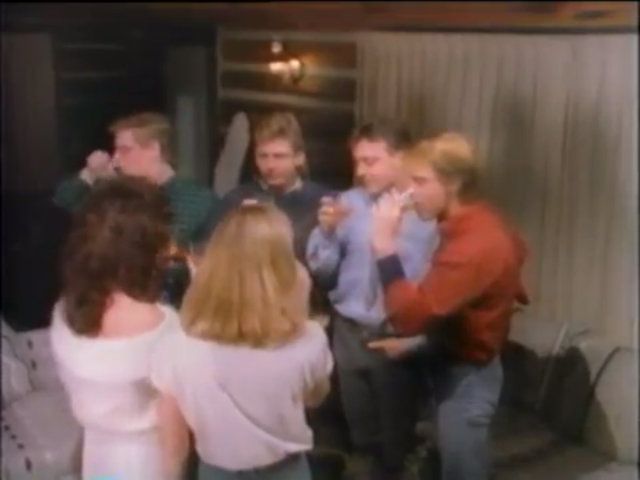 But the reason this movie is definitely not for everyone is simply due to how much Iced meanders. As much as the soap-operatic parts can be entertaining, they due begin to get grating after a while and come close to completely dragging the movie down. After seeing how great the final half-hour of this movie managed to be, it does make me curious as to why Kwitny didn't extend that last part over the course of the entire movie, which would give it a much more favorable reputation than it does now. Then again, the bland scenes leading up to it do give the climax more of an impact. The acting in this movie was, for the most part, terrible. Most of the actors never convey any emotion, especially Joseph Alan Johnson (ironic, considering he wrote the movie and did a helluva lot better in Slumber Party Massacre), but that only adds to the fun (although Ron Kologie was actually pretty good as Carl the coke addict). Also, for a snowbound movie, a lot of it is spent in the cabin where everyone is staying, so the atmosphere of the snow is almost lost upon it.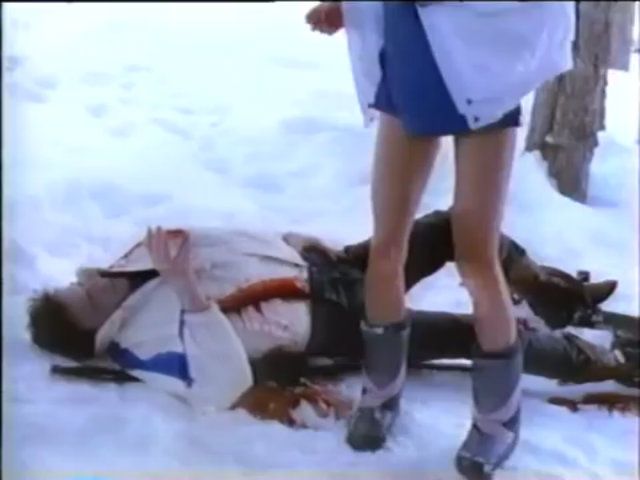 In all honesty, Iced is a horrendous pile of garbage scraped off the ass-end of the electrifyin' eighties. However, it's an enjoyable pile of garbage scraped off the ass-end of the electrifyin' eighties. The laughable "acting," the ridiculous synthesizer score, the obvious identity of the murderer, gaping plot holes, some pretty cool (niche) deaths, a sweet-looking killer disguise, a great final half-hour, a hysterically stupid "twist ending," and a final girl who spends the quintessential "final chase" with no pants on! The only original part about it is the cool POV shots filmed through orange ski goggles. Unsurprisingly, Iced has never made it to DVD, and I think VHS is where it rightfully belongs. I mean, can you imagine Iced on Blu-Ray? Criterion better start working on that…Anyway, I'm probably rating it higher than I should, but I have to take into accountant that warm feeling I get in my stomach every time I think about watching Iced every winter. It makes solid use of its snowbound atmosphere, even if I wish more had been done with it. Oh well, there's always Shredder...
The Verdict: Iced is an odd mix of killer slasher tastiness and somewhat boring melodrama. The first ten and last thirty minutes are spectacular, but the real question on whether to recommend this or not is simply, "Can you handle the stuff in between?" Slasher fans, check it out for kicks. Everyone else, GTFO.
Score: 7/10